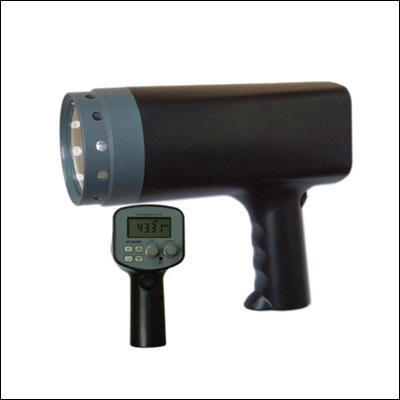 Stroboscope- Tacho Mater
Product Code : 16
Product Description
Tacho Meter
Stroboscope
Application :
When the speed of the moving objects matches the flash of the stroboscope, the moving object appears still. The unit can give the operator the illusion of 'stopped motion' where in actuality the equipment under observation is in a moving state. By adjusting the flashing rate, equipment in motion appears to be standing still. With slight adjustment, movement can be viewed in apparent slow motion. Which enables the observer or the operator to study the process in action.


Technical Details :
Wide measuring range and high resolution
Yellow/green back light ensures easier view under any light
Wide measuring range & high resolution.
Digital display gives exact reading with no guessing or errors.
Flash timer control conserves flash tube life.
External trigger allows unit to be automatically synchronize with equipment.
Strong flash light at low range and week flash light at high range to protect the flash tube.
Model
DT-12,000
AT-40,000
DT-20,000
DT-30,000
LCD display
4 digits, 10mm (0.4 inch) LCD
Measurement range (FPM: Flash per minute)
50-12,000
50-40,000
50-20,000
50-30,000
Accuracy
± (0.05%+1)
Sampling Time
0.3 second
Strobe Flash tube type
Xenon lamp
2 Range
H/L range : Manual conversion (Flashing light is much brighter at low range than at high range)
Flash adjust
Coarse adjustment, fine adjustment,x2 and /2 for fast check
Flash tube lifetime
Million time
Resolution
0.1/1
Triggering mode
Inferior/Exterior
Power supply
AC 220V
Default
AC 110V
Optional
Dimensions
215 x 85 x 180. mm
Weight
1000g
Power Supply
110V A.C. with USA plug or 220V A.C. with Australia / UK / EU plug for your choice
Packing
Plastic Box
Calibration
Optional
Guarantee
6 Months
Contact Us
4781, HAUZ QAZI, Delhi, Delhi, 110006, India
Phone :91-11-23215822/23216372/23215783/3550688